Zero Gravity Float Cork is looking for someone special to join our growing team.
Starting with a minimum of 19 hours per week, increasing to a potential of 40 hours if suited after 2 months.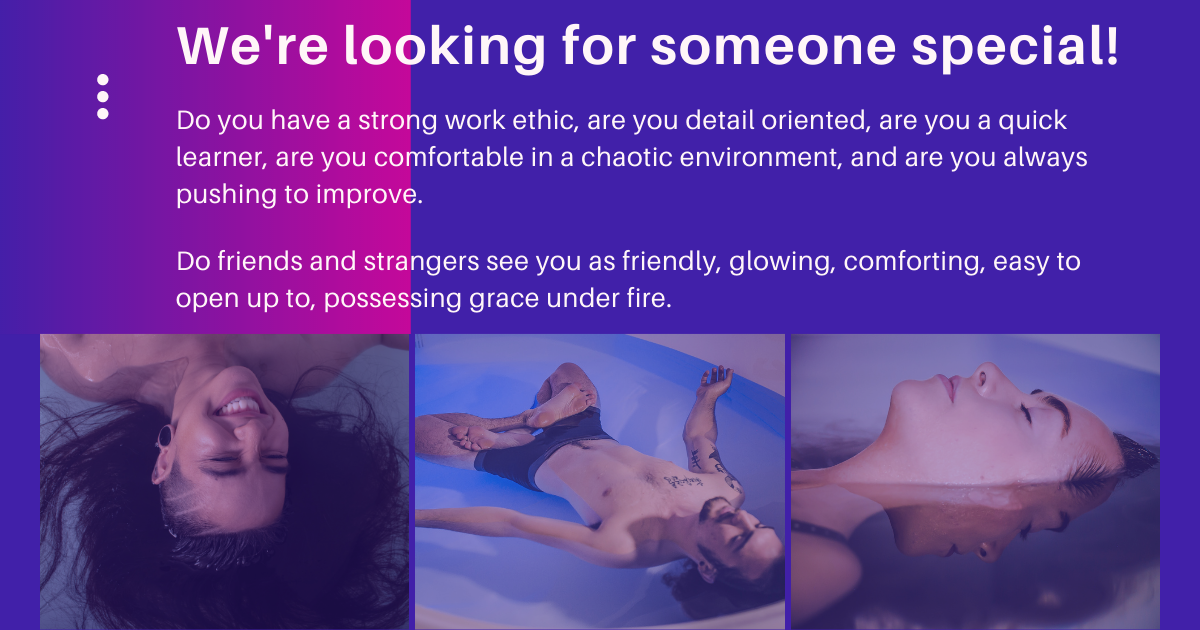 The shifts: Thursday/Friday 4pm – 12am & Sunday 9am – 8pm to start with (Cover holidays and flexibility in doing other shifts as required)
This job combines customer service with a lot of cleaning. Your duties will include:
Cleaning float tank rooms and float tanks inside and out.
Front desk customer service, answering phones and emails, Web chat, scheduling appointments, taking payments
Coaching first timers on how to float.
Continuously cleaning and maintaining the shop and its equipment
Closing the shop and having it fully prepared for morning floats.
Despite outward appearances, this is a fast paced job with very little downtime. The position demands energetic, professionally minded, highly focused and self-motivated individuals who like to keep their work environment extraordinarily clean. In addition to that, the right candidate will need to have a warm and friendly countenance, and enjoy both interacting with the public and working as a team in close quarters.
Compensation
Wages start at €10.20ph + Holiday Pay
Performance bonuses are paid to recognise exceptional performance
Access to free floats (€65 value)
Access to discounted floats for friends/family & discount on retail
Once everything is organised and spotless you will have the ability to do your own personal work, online courses, further education, reading or moving during float sessions.
Access to other small benefits and perks
Who We're Looking For:
Would you describe yourself as… ?
Detail Oriented
A Little Neurotic
A Perfectionist
Do you have… ?
A Strong Work Ethic
The Ability to Work Independently
Are you… ?
Comfortable in a chaotic environment
A quick learner
Able to roll with the punches
Always pushing to improve
Do friends and strangers see you as… ?
Friendly
Glowing
Comforting
Easy to open up to
Possessing grace under fire
Potential to grow into Full Time Assistant Manager & Manager position
Are you interested in other people's stories?
Do you listen more than you talk?
Good, But Not Required Experience (Full Training Provided)
Time floating, A meditation or yoga practice or time spent maintaining float tanks
Time maintaining pools/spas
Evening Shift Experience in the past
Janitorial Experience
About Zero Gravity Float Cork
We are a passionate group of individuals, committed to helping ourselves and our communities to live a more consciously healthy life.
We help people heal, we help them to relax and recover. We are committed to developing and improving ourselves. We practice healthy behaviours and attitudes, we move, we groove, we create, we meditate and we float.
We seek to optimise our overall health and well-being so that we can increase longevity, maximise our happiness and create harmony in our own lives and those we care about. Our goal is to be of use to our families and our communities. We also absolutely aim to leave the world in better shape than we found it.
We want people to believe in what we're doing, who want to grow with us as a company. We're not looking for a cog in the wheel we need passionate, talented human beings.
If this strikes a chord with you and you feel like you might just flourish in this kind of environment, for the love of god please send us an email, we've been waiting for someone like you.
Email us at [email protected] with an up to date CV and a paragraph on why you think you are perfect for this position.